A Remote Broadcasting Q&A With... Tristen Harris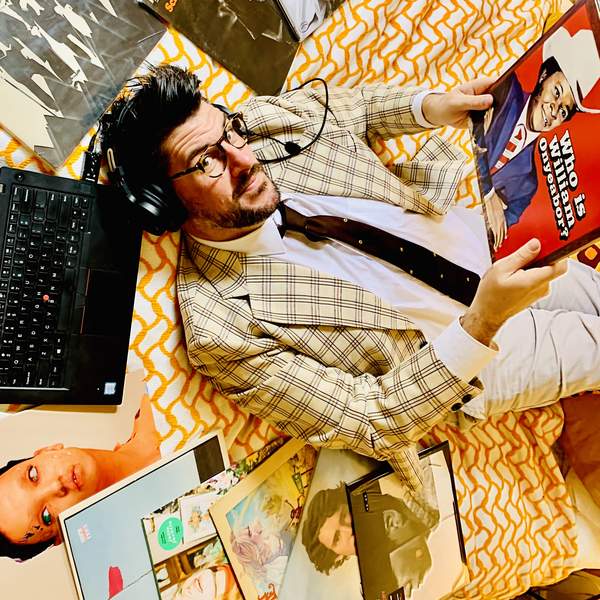 Broadcasters from right across the grid have been presenting their shows from home during the pandemic. Tristen Harris, host of The Golden Age Of Piracy, takes us on a little tour of his set-up.
Describe your home studio. What gear do you use? I'm working from home at the moment, so my home office is now my studio. All I need these days is a laptop, a couple of freeware audio programs and a decent microphone. As someone who used to lug boxes of CDs and records around, this is really freeing, although I definitely miss coming into the station on a Wednesday night.
Any good luck charms? Yes! I always bring the same lucky purple USB stick to the station. I've felt the need to use it at home, too, even though it's currently just a simple matter of moving files that are already on my computer. It once survived a hot wash in the pocket of my jeans containing the only copy of an interview with Britt Daniel from Spoon for that week's Max Headroom.
Preferred snack and/or beverage? Look, I make enough pronunciation mistakes without adding a mouthful of biscuits into the mix. My show is very research-heavy, with lots of facts to get straight, so I never drink booze before or during it.
What's your emotional state been while remote broadcasting? I've really missed being part of a physically connected community, especially small things like bumping into musical mates at local gigs or training for this year's Community Cup. But I've also really enjoyed the way that communities have found creative ways to become stronger together online. For example, Isol-Aid festival has been such a joyful part of my weekends. I've also felt proud to play a small part in maintaining that connection in my role as a community broadcaster.
Best moment? Definitely digging through all the old Formative Fives and giving some classics another spin!
Worst moment? Getting so techno-flustered in my first recorded Zoom interview that I continually got The National and The Walkmen confused… whilst on a call with a member of the latter. He was more gracious about it than he should have been.
What have you learned as a result of broadcasting from home? That my cat has perfected his most vocal meow when entering the room, and there's more Harley Davidsons on my street than I thought. As soon as you put that mic on, it's like the outside world has been just itching to come alive.
---
This interview first appeared in The Trip, Triple R's triannual subscriber magazine.