A Brief History of Shrimpwitch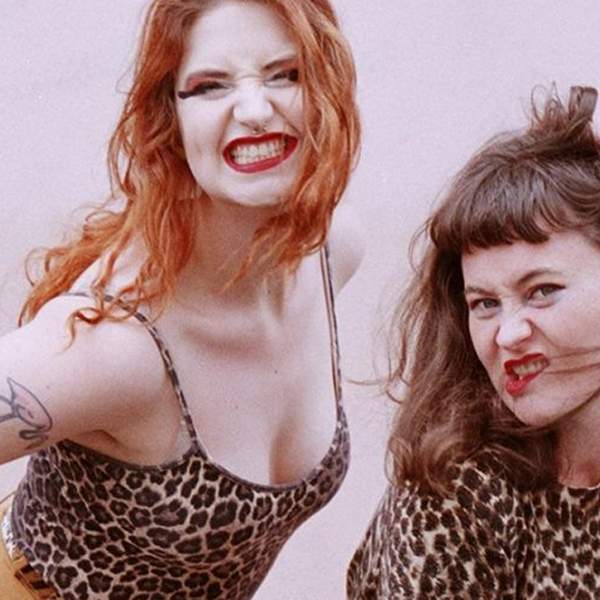 By Triple R volunteer writer Katherine Smyrk
It was the night before New Year's Eve (New Year's Eve Eve?) and it was starting to rain.
That didn't put off anyone at the small musical festival I was attending, nestled in the bush of south-west Victoria. It was chilly and a bit damp, but we were committed. Mostly, because Shrimpwitch had just taken the stage. They clamoured and hollered and rattled at 1000kms an hour through their set while the rain fell in sheets, flashing silver in the stage lights. Shrimpwitch is just Kim Prawn and Georgi Goonsack, but they sound like 10 people. Or more.
Only weeks before, the duo had closed out Meredith Music Festival, following the infamous Meredith Gift (aka giant nudie run) with a riotous set that had many shoes held aloft.
Back in this bush setting, I was equal parts transfixed by their witchy punk power, revved up by their defiant lyrics and delighted by their obvious sense of humour. Kim played electric guitar (a sparkly black one), Georgi played drums and they both sang in a nasal, high-pitched roar. Watching them play their guts out, I got that great feeling when you encounter people that you want to be, date and share a friendly beer with, all at the same time. I had just been Shrimpwitched.
Remarkably, the two have only really been a band since 2015, when they played at a backyard show with their friends from Wet Lips. They had started playing together a month or so before, jamming in their garage, and neither were particularly experienced; Georgi says she only discovered she had a knack for drums when she started playing around on a friend's kit at a house party.
'I'd never thought I was musical whatsoever. In my mind I wanted to be a singer, but I didn't think I had a good enough voice. Turns out I just had a different sounding voice,' she said in an interview with Beat.
Since then it's been a hurtling ride up. They released their debut EP Eggs, Eggs, Eggs in 2017, which was also the first official release of Hysterical Records – a label that specifically wants to highlight female and GNC artists in the Australian underground punk scene. At the start of this year they released their second album, Gave Me the Itch (out through Psychic Hysteria). The official description of the album is: 'A story told by two Crustacean Queens over two years about being fed up, sexed up and enraged.' And that's pretty spot on. It features short, sharp tracks that make you want to throw your body around recklessly – like 'Leerers', where they shout: 'I'm not here/For you to leer.' Describing the song to Trouble Juice, Georgi said: 'It's just annoying because I hate having to tell people to fuck off, but sometimes I have to.'
'It's been a long time coming, I suppose,' Kim told Pilerats about the new album. 'But it seems like not so long ago we were tiny baby shrimps in a shed in Brunswick trying to learn Cramps songs and make a racket. Over these past few years, it's been a joy to play heaps of shows and have a wild time together. So the album is a culmination of all the adventures we've had.'
Shrimpwitch have been rollicking around Melbourne for the start of this year promoting the new record, and will be soon be shaking the walls of the Triple R Performance Space with their special brand of swampy, garage punk – for the 10-year anniversary celebration of The Golden Age of Piracy.
Their music is silly and raucous, but also political and recalcitrant. They're funny. They're themselves. They're at once messy and unabashed and sexy and exciting.
As Georgi told Beat: 'It's at once kind of ridiculous, and sexual, and sensual, and fun, and that's interesting for women because a lot of the time women aren't allowed to be a lot of things at the same time.'
It's mesmerising. So, if you are coming along to their Golden Age of Piracy performance, prepare to be Shrimpwitched.
---
Shrimpwitch will play at April Amnesty Live Golden Age of Piracy Tenth Birthday Party, Wednesday 17 April. The show takes place at Triple R's Performance Space, from 10pm till midnight, and will also include live sets from FERLA and Cash Savage and the Last Drinks. Subscribers can email goldenage@rrr.org.au to go in the running to get their name on the door. Be sure to include your subscriber number in the subject line of your email.
---
Katherine Smyrk is a Melbourne-based writer of fiction and non-fiction, and the Deputy Editor of The Big Issue. When she's not reading or writing, she is usually eating cheese, playing footy or dancing to Beyoncé. Find her on Twitter.