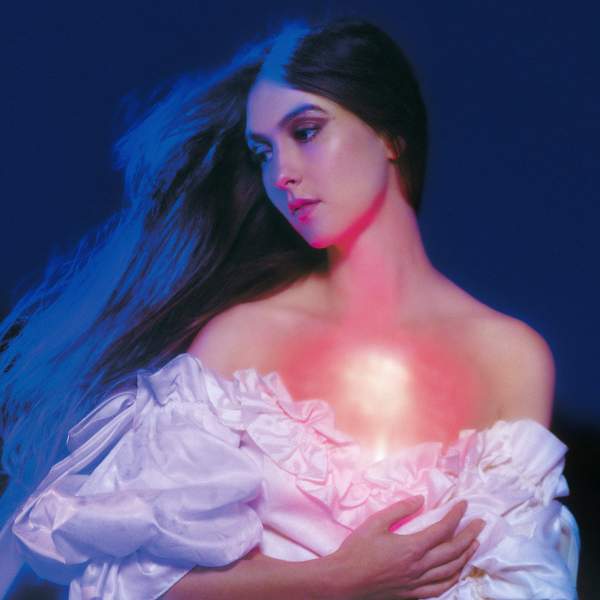 'And In The Darkness, Hearts Aglow' is Natalie Mering's fifth album as Weyes Blood. It's a compelling suite of orchestral folk songs and pop ballads reflecting on life and love in a time of disconnection. The Californian artist's new LP follows 2019's 'Titantic Rising' and is presented as the second album in a trilogy of records.
In a letter to listeners, Mering writes: "Titanic Rising...was an observation of things to come, the feelings of impending doom. And in the Darkness, Hearts Aglow is about entering the next phase, the one in which we all find ourselves today — we are literally in the thick of it. Feeling around in the dark for meaning in a time of instability and irrevocable change. Looking for embers where fire used to be. Seeking freedom from algorithms and a destiny of repetitive loops. Information is abundant, and yet so abstract in its use and ability to provoke tangible actions. Our mediums of communication are fraught with caveats. Our pain, an ironic joke born from a gridlocked panopticon of our own making, swirling on into infinity."
In the midst of this chaos, Weyes Blood finds harmony. Her lyrics meld the modern with the mythic, the secular with the spiritual, to find meaning. And for an album focused on the present, Mering's acoustic arrangements, synth soundscapes and vocal performances sound timeless.
For the chance to win a download copy of this week's Album Of The Week, Triple R subscribers can enter here before Sunday 27 November 2022. We have a prize policy of 1 album per subscriber per month so we can share the love and make it fair for all!