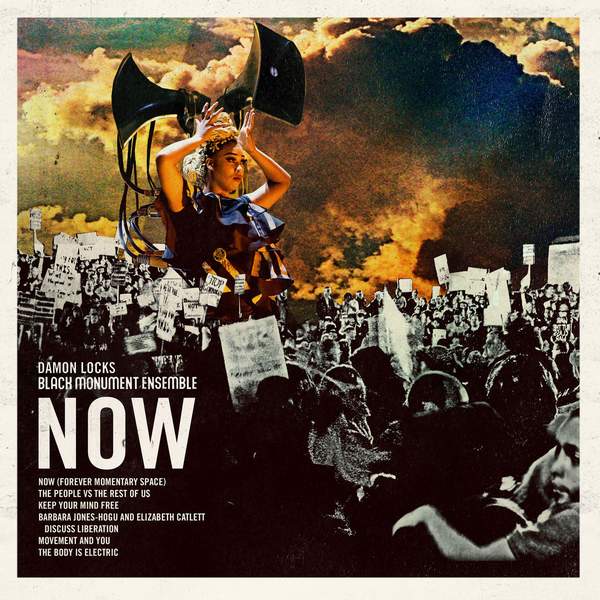 'NOW' is the latest album from Damon Locks, a bandleader, composer, visual artist, educator and influential figure in Chicago's cultural communities. Locks has a long history in music - one of his earliest bands was the experimental rock and post-hardcore group Trenchmouth, formed in 1988 and featuring his friend Fred Armisen on drums. The Black Monument Ensemble is a recent project that began with Lock's own sample-based creations, layering audio clips from Civil Rights Era speeches over programmed beats. It's since expanded to include a four-piece band and a six-piece choir; a vibrant collective of artists, musicians, singers, and dancers making work with common goals of joy, compassion, and intention.
An album statement describes how "NOW" was created: "in the final throes of Summer 2020, following months of pandemic-induced fear & isolation, the explosion of social unrest, struggle & violence in the streets, and as the certain presence of a new reality had fully settled in. Set up safely in the garden behind Chicago's Experimental Sound Studio, the music was recorded in only a few takes, capturing the first times members of BME had ever played or sang the tunes. For Locks, the impetus was more about getting together to commune and make art than it was about producing an album. In his words: "It was about offering a new thought. It was about resisting the darkness. It was about expressing possibility. It was about asking the question, 'Since the future has unfolded and taken a new and dangerous shape... what happens NOW?'"
In an interview feature with The New York Times, Locks delves into more of the album inspirations and themes: "partially inspired by sci-fi shows like HBO's 'Watchmen' and 'Lovecraft Country,' where Black people literally transport themselves out of perilous situations... 'NOW' uses up-tempo electro-funk and lyrics that spin societal despair into forward-looking optimism." Locks was encouraged by the activism he saw in the wake of protests and the pandemic, and reflects these messages of hope and community across the record, fusing cross-generational dialogue, spiritual jazz, soul and rock traditions.
For the chance to win a download copy of this week's Album Of The Week, Triple R subscribers can enter here before Sunday 9 May 2021. We have a prize policy of 1 album per subscriber per month so we can share the love and make it fair for all!