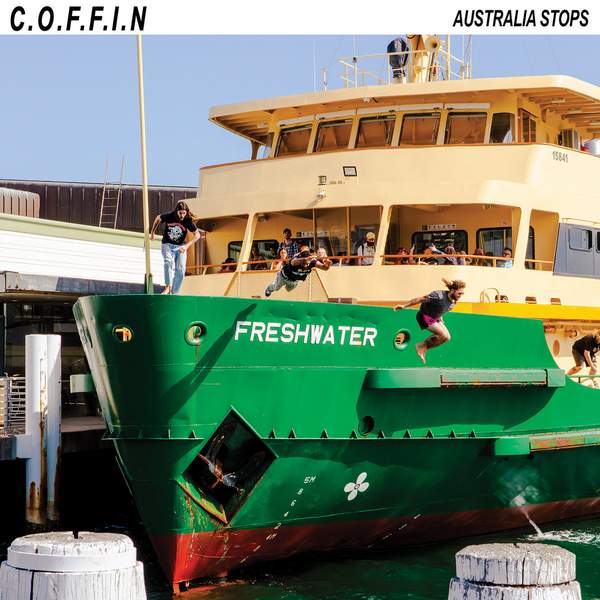 Sydney Northern Beaches-based C.O.F.F.I.N (Children of Finland Fighting in Norway) has released their fifth studio album, "Australia Stops." It marks 18 years for the band and represents a milestone in their musical evolution.
Recorded at The Pet Food Factory studio and produced by Jason Whalley of Frenzal Rhomb, "Australia Stops" is an intricate blend of 1970s boogie rock and roll, thrash metal, and punk. The range is compelling, showing a band that has matured and honed its edge. There's frenetic guitar work and pulsating rhythms, with drummer Ben Portnoy delivering his powerful vocals across diverse tempos and arrangements.
For C.O.F.F.I.N, the title "Australia Stops" became a lens through which to observe society. Inspired by the phrase "Without Trucks Australia Stops" printed on mud flaps across the country, the band addresses subjects as wide-ranging as politics, culture, and the landscape's natural beauty. Lyrics like "When the city burns up you get out, when the flint hits shot you get down" offer a critique of government inaction and societal inertia. Yet, the album also shines a light on the positive aspects of community and art. This dual approach offers a nuanced look at a nation in flux.
The album arrives on the heels of a tour with Amyl and the Sniffers and recent UK tour dates, enhancing their already strong live reputation. According to Portnoy, the album captures the live essence of the band and is a product of "learning what we like, and what we don't like" over many years. Amy Taylor of Amyl and the Sniffers goes further, sharing her own review on social media: "Incredible rock album, driving musicianship and lyricism that is timeless, with great men behind it. It literally rocks hard AF".
For the chance to win one of 5 vinyl copies of this week's Album Of The Week, Triple R subscribers can enter here before Sunday October 1st 2023. We have a prize policy of 1 album per subscriber per month so we can share the love and make it fair for all!