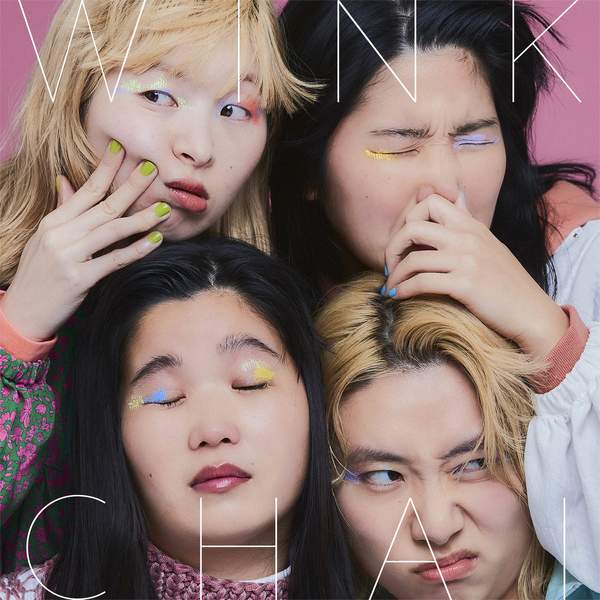 'WINK' is the third album from CHAI, originally from Nagoya and now based in Tokyo. It builds upon the exhilarating dance-punk and pop-rock of earlier records with a blend of R&B, soul and hip-hop elements. WINK is also the first CHAI album to feature contributions from outside producers (Mndsgn, YMCK) as well as a feature from the Chicago rapper-singer Ric Wilson.
CHAI formed in 2012 as the recording project of twin sisters Mana and Kana, and their high school classmates Yuna and Yuuki. It's a creative project founded in friendship, one that also seeks to dismantle restrictive standards in beauty and culture. Over the years CHAI have presented a musical manifesto of "neo-kawaii", an inclusive vision of self-love that reframes insecurities as individual strengths. WINK amplifies this message, with lyrics that also reflect on social and political events of the past year.
CHAI explain the album title in relation to past records: "After the 'i' of [first album] 'PINK' and the 'u' of [second album] 'PUNK' – which represented the band's act of introducing themselves, and then of centring their audiences – they have come full circle with the 'we' of WINK." Yuuki extends the message, saying: "A person who winks is a person with a pure heart, who lives with flexibility, who does what they want... With this album, we're winking at you. We're living freely and we hope that when you listen, you can wink and live freely, too."
WINK is a signature showcase of musical freedom and radical joy. The twelve tracks balance energised electro rock riffs, 8-bit grooves, and breakbeat punk rhythms with soothing lounge sounds, soulful R&B, and a lullaby.
For the chance to win a download copy of this week's Album Of The Week, Triple R subscribers can enter here before Sunday 13 June 2021. We have a prize policy of 1 album per subscriber per month so we can share the love and make it fair for all!