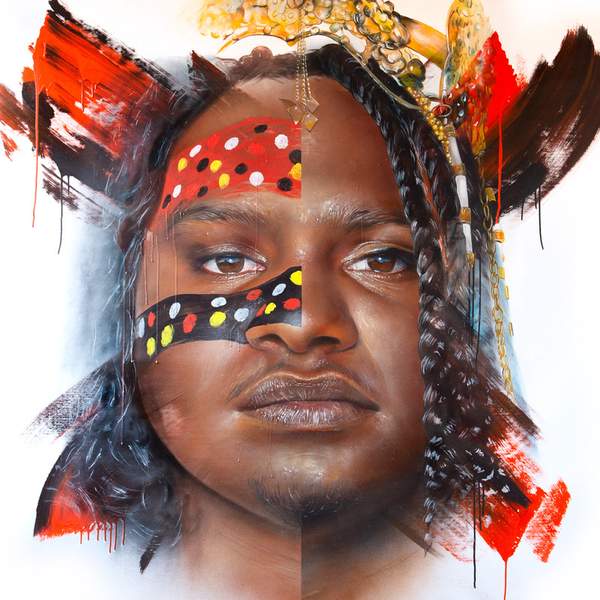 'Gela' is the debut album by Baker Boy, the recording project of acclaimed Yolngu artist Danzal Baker. It's a joyous set of songs bridging hip-hop, house, funk, R&B and pop styles.
The album cover is a symbolic portrait by local street artist Adnate, depicting what Baker describes as "my experience of living in duality as a Yolngu Man and as The Fresh Prince of Arnhem Land, as Baker Boy". And speaking with RRR broadcaster and writer Daniel James, Baker says "the title, 'Gela', is because it's my skin name, it's like a nickname as well, when I was growing up a lot of people would call me Gela, Baker Boy, Gela Boy and the reason why I chose it is because it's me, it's my story." He also told James he hopes listeners to Gela will take away "Inspiration, positivity, knowledge, culture, (and) language."
At every stage of his career, Baker Boy has dedicated his work as a dancer, rapper, singer, and actor to inspiring others, and empowering communities. His extraordinary journey has led to recognition as Young Australian of the Year in 2019, an Order of Australia medal for contributions to Australia's performing arts industry, not to mention being awarded 'The Boot' by Big Boi at Golden Plains in 2018.
Baker invites us into 'Gela' with the opening track 'Announcing the Journey', a traditional song performed here by Baker's Uncle Glen Gurruwiwi, one of the Lead Songmen of the Galpu clan of north-east Arnhem Land. 'Survive' features Uncle Jack Charles, offering stories of resilience and strength. Baker is also joined, amongst many friends and collaborators, by G-Flip on the celebratory single 'My Mind', JessB on the anthemic 'Meditjin', and Yirrmal on 'Ride', and 'Something Deep', the latter song addressing themes of climate change.
For the chance to win a download copy of this week's Album Of The Week, Triple R subscribers can enter here before Sunday 24 October 2021. We have a prize policy of 1 album per subscriber per month so we can share the love and make it fair for all!