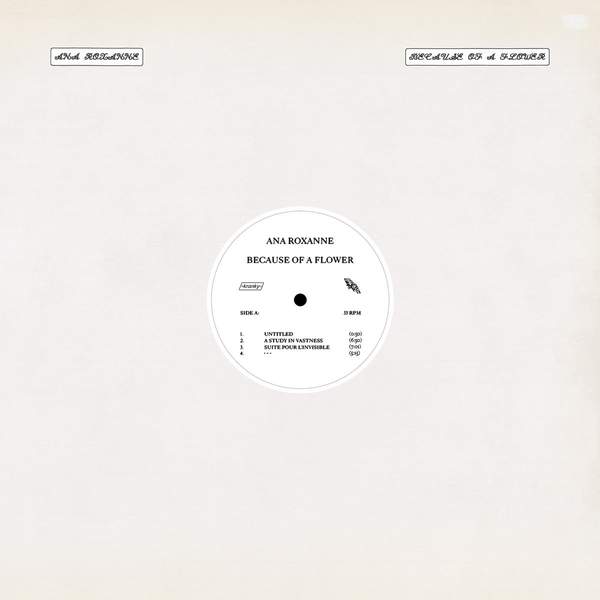 Because of a Flower is the debut LP from Los Angeles-born artist Ana Roxanne. It's a sublime set, exploring the atmospheric sounds of ambient, dream-pop, choral and new age traditions, alongside the textural spaces of drone, noise, and slowcore. Ana Roxanne cites several key influences in her musical development. Hearing Alicia Keys's debut album, Songs in A Minor for the first time in high school, discovering Hindustani classical music whilst in India, and learning the potential of synthesisers at Mills College in Oakland. The deep devotional music of artists like Alice Coltrane also made an enormous impact during that time. Ana Roxanne weaves it all together in her own expansive compositions that unfold slowly as you listen. Vocals, loops, found sounds, synthesised melodies, silence and stillness.
Because of a Flower meditates on questions around gender, identity, self-acceptance, beauty and cruelty. An album statement says: "The experience of identifying as intersex informs the album on levels both sonic and thematic, from spoken word texts borrowed from tonal harmony textbooks to cinematic dialogue samples and castrati aria allusions." The first song is a spoken-word piece that blurs binaries and dissolves divisions: "Yin, the female principle, and yang, the male principle… have joined, and out of their junction has come a third: harmony." It's a transformative, transcendent quality that carries across the entire album.
For the chance to win a download copy of this week's Album Of The Week, Triple R subscribers can enter here before Sunday 13 December 2020. We have a prize policy of 1 album per subscriber per month so we can share the love and make it fair for all!