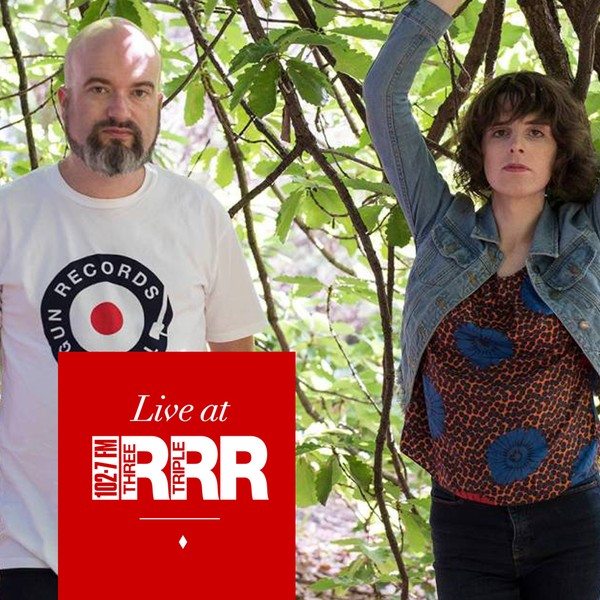 Catch Tasmanian duo The Native Cats (Chloe Alison Escott and Julian Teakle) Live from the Triple R Performance Space at 6.25pm on Friday 1st March during The Cave, playing tracks from their fourth album (and former 3RRR Album of the Week) John Sharp Toro. Doors 6pm.
Each song on the new album shakes with post-punk rhythms, energetic performances, compelling lyrics and original rock arrangements. The Native Cats describe it best themselves though: "(John Sharp Toro) merges the chaotic urgency of Swell Maps and The Fall with the idiosyncratic production and labyrinthine album concepts of Blood Orange and Kendrick Lamar. There are recurring lyrics, haunting reprises, codes upon codes, foreign voices, personal archive recordings, distorted synths that arrive without warning like floodlights cutting through fog. It's about queer isolation and loneliness, transfiguration, the ways that lives and relationships continue after they've been altered; it's also about digital spaces, the US Republican Party in the second half of the 20th century, and James M. Cain's opera-scene noir Serenade, the origin of the album's title."
Subscribers can email thenativecats@rrr.org.au with their full name and subscriber number in the subject line by COB Tuesday 27 February for a chance to be part of the audience. Please note: You must have a current annual Triple R subscription to be eligible for giveaways. Winners will be notified via email. Entry is via 3RRR guestlist only and tickets will not be available for purchase on the night for this event.

Accessibility: The Triple R Performance Space is wheelchair accessible and can be accessed via a lift located at the front of the building (Nicholson St entrance) Please feel free to contact the station during office hours on +61 3 9388 1027 if you would like to discuss any special requirements.
Venue details
Triple R Performance Space

221 Nicholson Street, East Brunswick, Victoria 3056