Presented by Bethany Atkinson Quinton
Interview
Uncle Kutcha Edwards on Sovereignty, Treaty and 'Making Ripples On The Pond'
Singer-songwriter and proud Mutti Mutti man Uncle Kutcha Edwards joins Beth AQ on The Glasshouse to talk about his forthcoming collaboration with local legend Uncle Jack Charles at the Phillip Island Festival of Stories.
Before performing a song live on air, accompanied by guitarist Daniel Jay Marcus, he explains that the song's lyrics were inspired by Uncle Jack's brother Archie, someone he had known well for many years, eventually singing at his memorial service at Uncle Jack's request.
Kutcha tells Beth that Archie used to say to him 'Archie has a one-way ticket to hell, stopping all stations' and that 'as a songwriter, that statement entered my spirit, my psyche'.
He reflects on the importance of connection and culture and family, given his own history of removal and placement in a children's home at a young age. Rediscovering his own connection to his culture coincided with meeting Uncle Jack back in the mid 1980s when Fitzroy's Aboriginal community led him to a deeper understanding of the importance of self-determination and having a political voice. Many years later, he was surprised to learn that Uncle Jack is his first cousin. But that, he says, is what happens when people are removed from family.
Uncle Kutcha will interview Uncle Jack this Saturday (aka 27 July) as part of the 2019 Festival of Stories at the Cowes Cultural Centre, Phillip Island. They will also appear together the next day as part of a Conversation about Sovereignty and Treaty. For more details, visit https://pifestivalofstories.com/2019-program/presenters/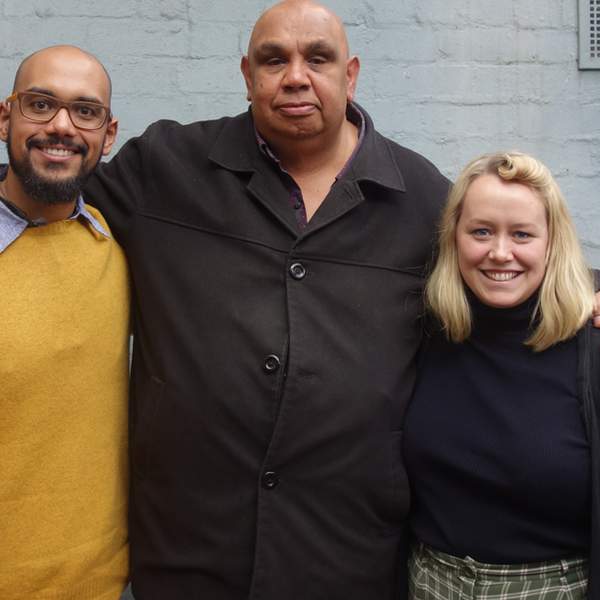 Listen to Uncle Kutcha Edwards on Sovereignty, Treaty and 'Making Ripples On The Pond'
30:51∙24 July 2019
∙