From an episode of The Golden Age Of Piracy∙Presented by Tristen Harris
Interview
The Screaming Females Plug in the Songs that Helped Shape the Band They Are Today
Marissa Paternoster, Mike "King Mike" Abbate and Jarrett Dougherty from American rock band The Screaming Females have touched down in Australia for the first time in three years. Their first stop on a fine Wednesday evening is with Tristen Harris host of 3RRR's Golden Age of Piracy to choose their Formative Five: five songs, artists or albums that show us who are the influencers or how and why they sound the way they do.
After being a band for 15 years with the same lineup, these five songs are fundamental to their sound, background and their long happy marriage.
It's no surprise that it's Sleater-Kinney's album The Woods.
1. 'Fox' by Sleater-Kinney
From the 2005 album The Woods, 'Fox' is a deep exploration of the band's ability to display their strong eruption of drums. Over time this eruption of beats collapse onto the powerful walls of the lyrics. Tristen calls Marissa one of the best guitarists ever. And you can feel the drilling guitars from Sleater-Kinney whirl and swirl in the Screaming Females timbres.
2. 'Cashout' by Fugazi
This song holds value and importance to the band's drummer, Jarrett. He finds that Fugazi is a band that heavily influenced his drumming style. Brandon from Fugazi has this ability to convey melodic and emotional lyrics through the drums.
3. 'Dance, Dance' by Fall Out Boy
A surprising choice. One that shocked the station. The band claims that 'Fall Out Boy saved our lives'. They hold this band accountable for their actions, asking themselves in tricky situations, 'What would Fall Out Boy do?'
Maybe if you listened to this song nine to ten times a day, you would feel the same.
4. 'Say Yes' by Elliot Smith
Marissa's chooses this song because it emulates a Beatles-esque vibe, but nurtures a rebel side in the way that Elliot Smith is more concerned with producing good melodies, rather than lyrical content. Marissa is inspired by the methodology and effortlessly cool songwriting by Elliot.
5. 'City Bus #30' by Tenement
The pop-punk band is not just talented and fearless in their risks, they are a massive influence for the SF. Sourcing both the Screaming Females and Tenement as influencers of each other, they are genuinely empowering and learning from each other.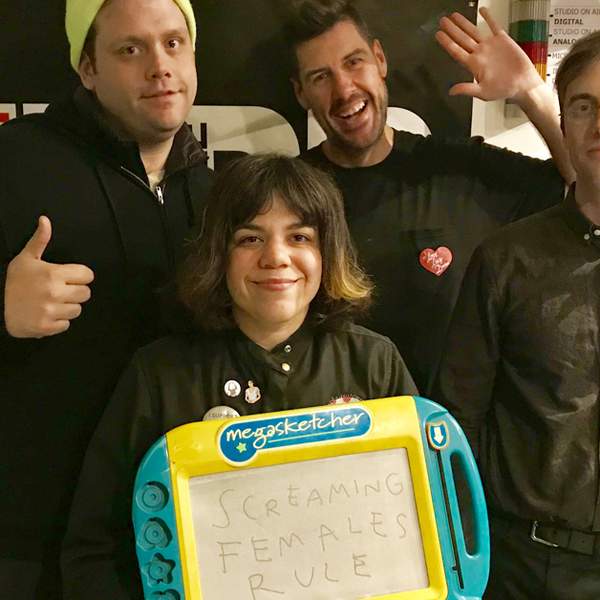 Listen to The Screaming Females Plug in the Songs that Helped Shape the Band They Are Today
45:43∙22 May 2019
∙