Presented by Emma Buckley-Lennox
Interview
Paddy Manning Delves Inside The Greens with Emma Buckley-Lennox
Emma Buckley-Lennox, filling in on On the Blower, talks to journalist Paddy Manning, who says that he 'fell into a research hole' while writing his book Inside The Greens, because the origins of The Greens as a political party were pretty obscure and not well documented.
Delving back to the Green Bans instituted by the Builders Labourers Federation (BLF) and people like Jack Mundy in the early '70s, the book is a deep-dive into both the history and the current state of the party. Paddy says the Green Bans, which began in 1971 when BLF workers went on strike to save a piece of remnant bush on Sydney Harbour from developers, were as important to the birth of the party as the more well-known campaigns, such as the fight to save Lake Pedder in Tasmania in 1972.
Paddy thinks that 'neither left nor right', one of the party's early slogans, sums up their ongoing issues with disappointing election results, despite the efforts of Bob Brown, who 'carved out a political profile for the green movement almost single-handedly'.
Paddy argues: 'Brown turned out to be a very effective lobbyist for the environment movement, in particular striking up a relationship with the Hawke-era Environment Minister, Graham Richardson, and still to this day there has never been a kind of greener period of national government than that that occurred in the '80s'.
In more recent times, The Greens vote doubled when Labor equivocated on the issue of people seeking asylum during the Tampa crisis. But, as Paddy points out, the party has also grappled with internal divisions over what it actually stands for as they try to cater to a greater diversity of views both within the organisation and amongst their supporters.
Paddy Manning's Inside the Greens: The Origins and Future of the Party, the People and the Politics is out now through Black Inc. Books.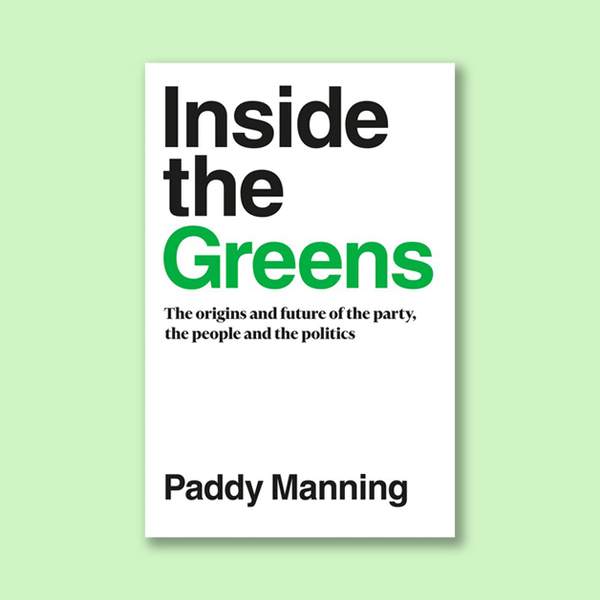 Listen to Paddy Manning Delves Inside The Greens with Emma Buckley-Lennox
31:22∙11 October 2019
∙