From an episode of Off The Record∙Presented by Brian Wise
Interview
Off The Record: Deb Conway and Willy Zygier Release Their Tenth Album and There's 'A Lot To Celebrate'
Deborah Conway met Willy Zygier in October 1991 when she needed a guitarist to tour her debut solo album String of Pearls. They began a personal and professional relationship that has flourished ever since producing lots of albums and three daughters. Their latest and tenth album, The Words Of Men, 'even got a favourable review in The Australian', something Deb considers a bit of a bonus. And Willy reckons even their daughters want to come and watch 'their old farty parents' perform it at Hamer Hall in June.
Deborah and Willy serve up live performances of 'I Need To Complain' and 'There's A War That's Coming' from their new album, which they point out was also recorded live because, as Willy says, 'There is so much recorded music in the world and we just wanted to make a record that sounded absolutely real, that sounded like a band in a room playing their hearts out.' Deb also thinks that the days of 'bringing the flugelhorn out for the sixteenth bar are gone', which Brian notes is probably a result of the fact that the days of record companies paying for the studio time are also over.
Deborah and Willy will launch The Words Of Men and play classics from Bitch Epic for EPIC: Deborah Conway, Willy Zygier & The Men at Hamer Hall on Sunday 16 June.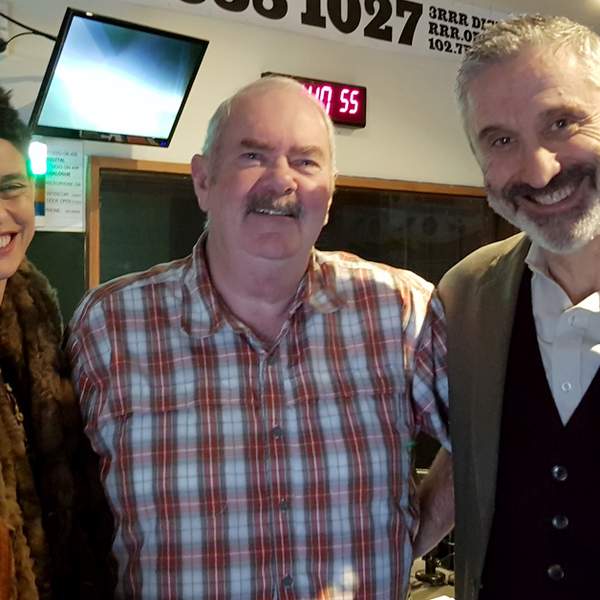 Listen to Off The Record: Deb Conway and Willy Zygier Release Their Tenth Album and There's 'A Lot To Celebrate'
22:58∙30 March 2019
∙