From an episode of Off The Record∙Presented by Brian Wise
Live on Location
Off the Record: Celebrating 30 Years of Byron Bay's Bluesfest
In this special edition of Off the Record, host Brian Wise heads up to Byron Bay for the 30th anniversary of Bluesfest. What began as a humble event attracting only a few thousand people back in the early '90s has now evolved into a musical behemoth hosting hundreds of performances over the Easter weekend.
With live performances broadcast throughout the show, musical acts such as Snark Puppy, Gary Clark Jr, Fantastic Negrito and Imelda May showcase their talents, capturing audiences with their craft.
Speaking to Brian, Fantastic Negrito (09:28:34) discusses how his start in music began five years ago after picking up a guitar and playing in the city of Oakland. Having won Grammys for both his albums Last Days of Oakland and Please Don't Be Dead, the artist has something to say about music's longevity. He believes that mindless trends have a shelf-life and says that, 'Great music is just great music. There's no timeframe or expiration.'
Irish singer Imelda May sits down for a chat with Brian (10:01:17) and traces her musical beginnings back to the age of 13 when she started to write and learn guitar. It wasn't until she was 16 that she actually started singing and playing with bands in Dublin. Without a record deal and having to finance her first album, Imelda sung at every wedding, funeral and function until her hard work paid off. She now enjoys performing with the likes of Jools Holland and Jeff Beck.
The Marcus King Band talk with Brian (10:42:54) about how they got together back in Greenville, Southern Carolina. Says Marcus, 'We were presented with a really fabulous opportunity to work together and the band has evolved into what you see now.' With influences drawn from musical greats such as Aretha Franklin and Janis Joplin, the band has always been drawn to magnanimous performers who take the stage and own it.
Although Bluesfest has now wrapped up for 2019, tickets for next year's event go on sale 29 April.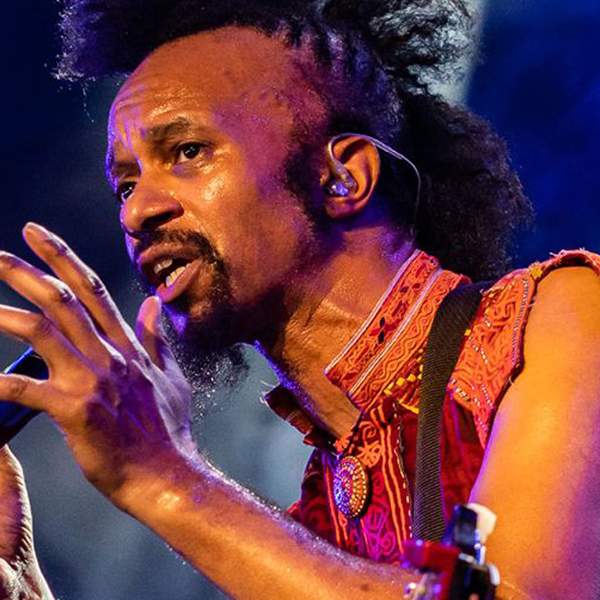 Listen to Off the Record: Celebrating 30 Years of Byron Bay's Bluesfest
02:47:32∙20 April 2019
∙