From an episode of The Golden Age Of Piracy∙Presented by Tristen Harris
Interview
Metronomy's Formative Five Skips Across Aaliyah, Aphex Twin and R.E.M.
Joseph Mount of UK Electro-pop band Metronomy joins Tristen Harris on The Golden Age of Piracy to share his Formative Five.
1. Aaliyah - 'Try Again'
Working in a HMV at the time, Joe heard A LOT of this song. As an 'extremely inventive RnB record with super-clever production', Joe reckons Aaliyah helped open his mind up to pop music again, after a long while listening 'to boring IDM music'.
2. Aphex Twin - 'Windowlicker'
Joe goes so far as to call this classic 'one of the most pop electronica IDM tracks of all time, in a way'. Apparently, the Aphex Twin's label Warp Records did their best to stop the track from becoming a number one hit at the time. 'When they do lists of greatest singles of all time...this is one that would have to be in there, it's just incredibly unusual.'
3. Weezer - 'My Name Is Jonas'
Halfway through the writing of Metronomy's latest album, Joe restarted a love-affair with guitar music. 'I was reminded of all of the stuff I was listening to as a teenager, how much guitars were a part of everything you'd hear… listening to it now, it can evoke these real, proper teenage feelings.'
4. The Beatles - 'There's a Place'
'It's kind of a template or an idea of being in a band…' Joe says of The Beatles. From 'Please, Please Me' to 'Rubber Soul' and 'Revolver', progressing through the discography of The Beatles can mirror a more general discovery of music. For Joe, 'There's a Place' is something near 'proto-grunge'.
5. R.E.M. - 'Losing My Religion'
Another revisitation for Joe during the writing of the new Metronomy album - 'it's impossible to escape this weird teenage feeling' with a song like 'Losing My Religion'. For Joe, it's music that he pushed back against just as much as he was influenced by it.
Promotional band photo sourced from Metronomy Facebook page. Photo by Gregorie Alexandre.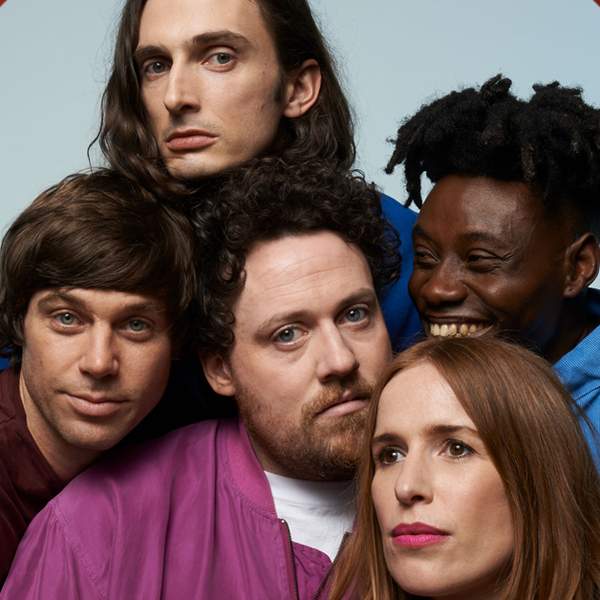 Listen to Metronomy's Formative Five Skips Across Aaliyah, Aphex Twin and R.E.M.
36:58∙17 July 2019
∙