Presented by Chris Gill
Interview
'Mal Mi Goa': Songs Of Peace From South Sudan
Gordon Koang is a Neur speaker and musician hailing from the Upper Nile region of what is now South Sudan. Accompanied by his cousin Paul Biel, Gordon performs a blend of traditional Neur rhythms and original compositions in English, Arabic, and his native language, Neur.
'Mal Mi Goa' is Gordon's first release for the Music in Exile project, and it calls for peace between the people of Sudan and for everyone around the world. He speaks to Chris Gill about the importance of working collaboratively because 'one hand can't clap'.
Gordon and Paul are both refugees that have been waiting since 2015 for their permanent residencies so that they can reunite with their families and they are using their music as 'a platform to raise awareness' and to hopefully expedite the process.
They play their song about peace live in the studio and talk about the hopes and dreams they have for building new lives and musical careers in Australia.
'Mia Mi Goa' is available through Bedroom Sucks Records https://bedroomsuckrecords.com/shop/gordon-koang-mal-mi-goa/ and you can catch them live tomorrow (aka Saturday 13 April) during the day at Northside Records for Record Store Day or at The Curtin at 8pm. https://www.musicglue.com/the-curtin/events/8b704f54-65cd-41e0-923c-b2a11b6676d9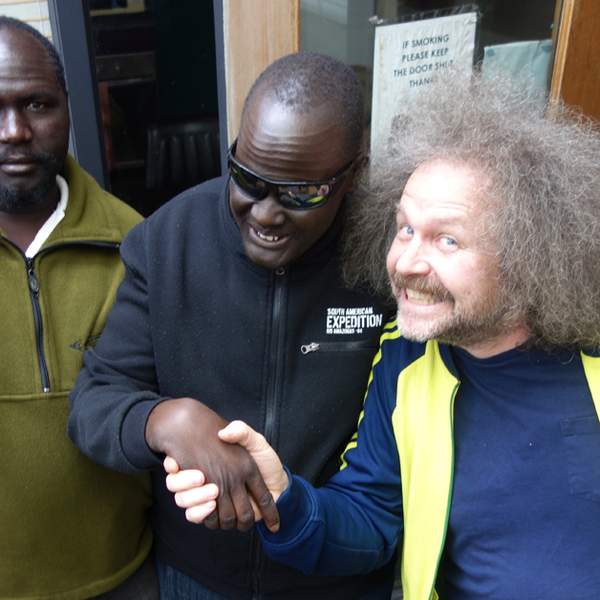 Listen to 'Mal Mi Goa': Songs Of Peace From South Sudan
21:50∙12 April 2019
∙