From an episode of Kick Like a Girl∙Presented by Kate O'Halloran
Interview
Kick Like a Girl: Round 3 Reviews with Geelong Cats Player Erin Hoare
Erin Hoare of the AFLW Geelong Cats joins Kick Like a Girl host Kate O'Halloran to review Round 3 of the AFLW season. Despite the Cats' loss against the Crows over the weekend at Adelaide's Norwood Oval, Erin still has plenty of great things to say about women's football.
Growing up playing netball near the GMHBA Stadium, Erin thinks it's great to be now representing Geelong's first ever women's football team. Wearing a Guernsey and being able train, play and have access to the same space as male athletes Erin has found to be quite incredible. Says Erin, 'The Geelong Football Club have been an absolutely phenomenal support to us coming into the program.'
When talking about some of the negative attitudes towards women in sport and the effect this could have on younger generations, Erin says 'It's understanding what our words do and what our attitudes do and how that affects young people. Let's empower and inspire not give roles and expectations that may not suit them.'
ROUND 3 REVIEW
KANGAROOS VS WESTERN BULLDOGS
Who won? Kangaroos by 31 points.
Kangaroos best: Courteney Munn, Jenna Bruton and Kate Gillespie-Jones.
Dogs best: Kirsty Lamb.
CARLTON VS GWS GIANTS
Who won? Blues by 29 points.
Blues best: Madison Prespakis and Georgia Gee.
Giants best: Alyce Parker and Yvonne Bonner.
FREMANTLE VS COLLINGWOOD
Who won? Dockers by 33 points.
Dockers best: Kiara Bowers and Kara Donnellan.
Magpies best: Sarah D'arcy and Brittany Bonnici.
ADELAIDE CROWS VS GEELONG CATS
Who won? Crows by 29 points.
Crows best: Erin Phillips, Ebony Marinoff and Jessica Foley.
Cats best: Richelle Cranston and Madeline Keryk.
MELBOURNE VS BRISBANE LIONS
Who won? Demons by 39 points.
Demons best: Aliesha Newman, Karen Paxman and Lauren Pearce.
Lions best: Ally Anderson and Kate Lutkins.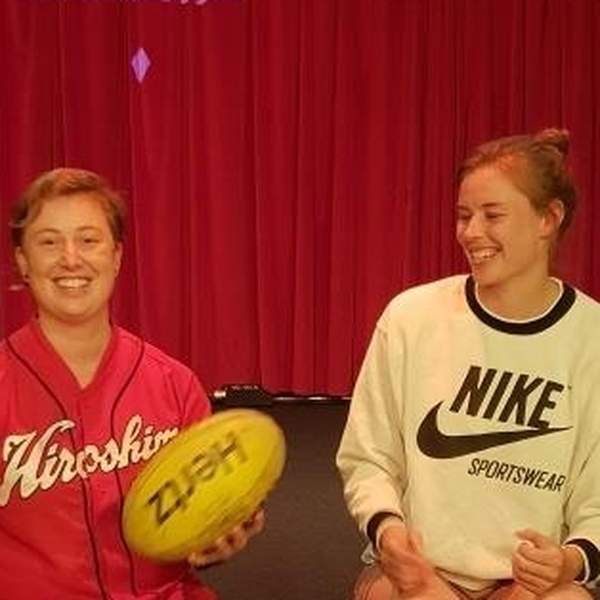 Listen to Kick Like a Girl: Round 3 Reviews with Geelong Cats Player Erin Hoare
01:00:00∙18 February 2019
∙