From an episode of The International Pop Underground∙Presented by Anthony Carew
Interview
International Pop Underground: Silvana Estrada Made Her Breakout LP in a Wooden House in a Forest
Silvana Estrada was born into a musical family. Her parents are luthiers: her mother builds violins and violas, her father, cellos and double basses.
Raised in Coatepec, a mountain town on the outskirts of Veracruz, Mexico, she was always surrounded by music and musicians. "I grew up feeling like music was something that was necessary," Estrada laughs.
In conversation with Anthony Carew on The International Pop Underground, the 25-year-old songwriter talks about her musical history, and how various elements —the traditional son jarocho music of her childhood, her jazz studies as a teenager, her discovery and embrace of the four-stringed Venezuelan cuatro— have informed her singular sound.
In January, Estrada released her brilliant second album, Marchita, a stripped-down breakout record steeped in heartbreak.
"I really want[ed] the sound to stay super-simple, I want[ed] only wooden instruments to tell the story behind all the songs. I'm the daughter of a family of luthiers, so I really wanted to have those wooden sounds," Estrada recounts.
"I recorded this album in a wooden house in the middle of a forest, just like my [childhood] house, and I really wanted to have this space always surrounding [the songs]. It really worked to create that intimacy."
Now, she's followed it up with the EP Abrazo, a contrasting collection of songs —written in quarantine— about connection, community and hope. This includes Si Me Matan, which details the difficulties and dangers of being a woman in Mexico.
"Even with that violence and terror, women we still create beauty and life," says Estrada. "It's a really rough song, but for me it's a song about hope."
Feature image: Jackie Russo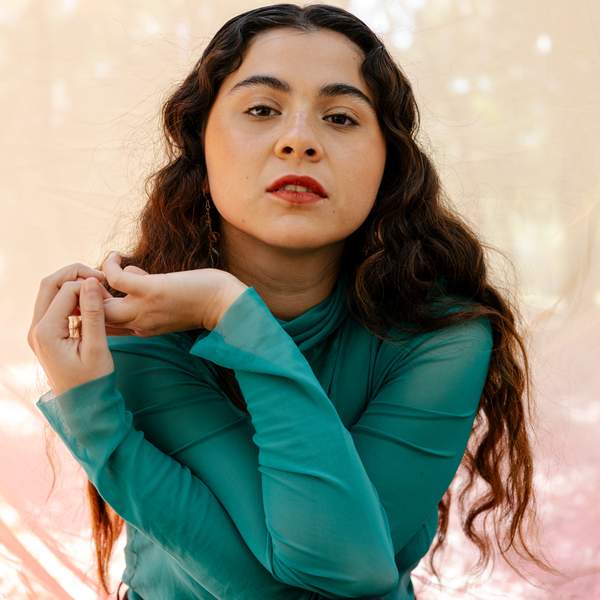 Listen to International Pop Underground: Silvana Estrada Made Her Breakout LP in a Wooden House in a Forest
24:01∙21 September 2022
∙