From an episode of The International Pop Underground∙Presented by Anthony Carew
Interview
International Pop Underground: Rolling Blackouts Coastal Fever, Live from a Brunswick Rehearsal Space
Reunited at Three Phase Rehearsal Studios in Brunswick after the lifting of social restrictions, Rolling Blackouts Coastal Fever got to re-experience the simple thrill at the heart of every garage band: being in the same room as each other, making a lot of noise.
In celebration, the quintet rattled through three songs, recorded live, exclusively for RRR: Cameo, She's There, and Cars In Space. A post-breakup song, a declaration of devotion, and a breakup song, respectively. All of them are from Rolling Blackouts' second LP, Sideways To New Italy. And all three of them show the band at their best, rolling forever forward behind the propulsive momentum of their three interlocking —and ever-jangling— guitars.
Two of RBCF's three songwriter/guitarists, Fran Keaney and Tom Russo, also join The International Pop Underground's Anthony Carew for a pre-set conversation. They talk about travelling the world following their 2018 debut, Hope Downs, about how all that time away informed and influenced their new album, and how it feels releasing an LP when their bread-and-butter, performing live, is on hold for the foreseeable future.
Feature image: Peter Ryle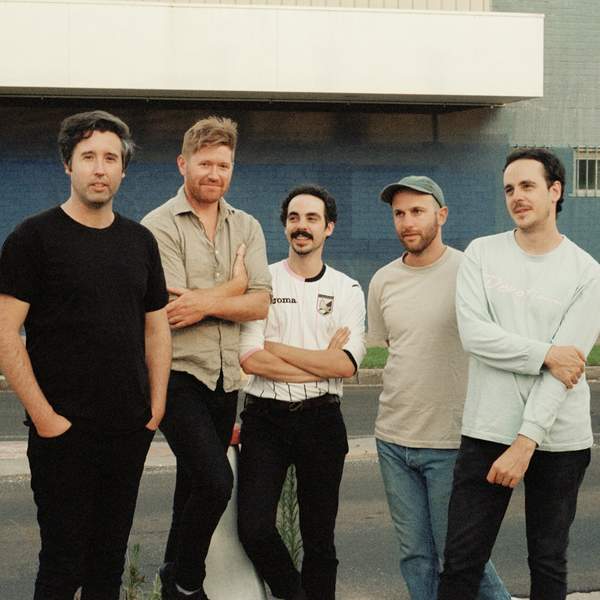 Listen to International Pop Underground: Rolling Blackouts Coastal Fever, Live from a Brunswick Rehearsal Space
25:06∙10 June 2020
∙