From an episode of The International Pop Underground∙Presented by Anthony Carew
Interview
International Pop Underground: On His Solo LP, The National's Matt Berninger Has No Fear Of Ugly Truths
Matt Berninger has done a lot in his career. He's made eight albums with The National, and one with El Vy. He's written the music & lyrics for a Cyrano de Bergerac musical. He's performed acoustically for astronauts in orbit. He's even opened up rallies for the US President; "Obama, not the current one," he seeks to clarify.
But it's only with the release of Serpentine Prison that the 49-year-old has, finally, released a solo album. One released under his own name, even though even he's not sure how to pronounce his surname.
Serpentine Prison comes produced by the legendary Booker T. Jones (who Berninger calls a "musical, emotional shepherd"), and features a cast of musicians from The National, Menomena, The Walkmen, Beirut, and Andrew Bird. It was initially conceived as a covers record, in the vein of Willie Nelson's Stardust, but soon grew into something more personal, more individual.
"It was my own thing," Berninger says, in conversation with Anthony Carew on The International Pop Underground. "I wrote all the lyrics and melodies myself. It was my own little thing that i was totally in charge of myself".
Berninger hopes the results make for a record that feels like "an old, classic, good little record". The tunes therein, he says, dig into the same five themes all his songs are about: sex, fear, God, love, death. He's unafraid of dark themes, or self-lacerating lyrics, he thinks, due to his childhood. As evidenced by a frank conversation with his father, at 14, about masturbation, all things were up for discussion in the Berninger house; and are, now, in Berninger's songs.
"It's really important to look over the edge," Berninger says, "to look down into the darkest parts of your history or yourself, your nation or your industry, and look at 'em, and talk about it. I feel really comfortable digging into uncomfortable things... I['ve] never had any fear of telling the truth, even if it's ugly."
Feature image: Chantal Anderson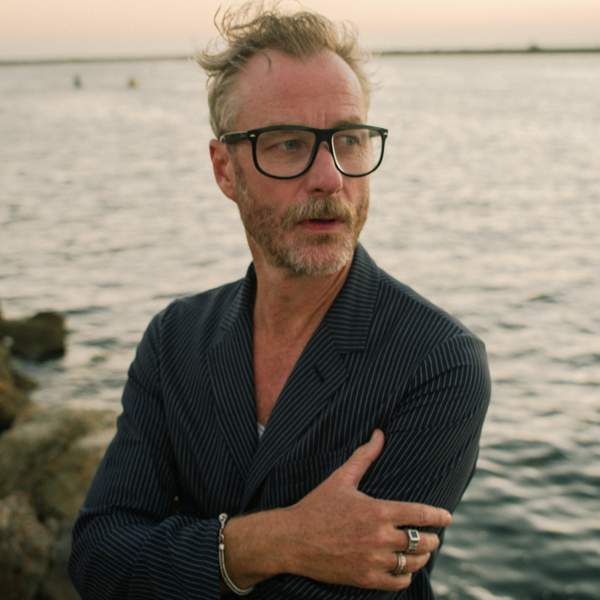 Listen to International Pop Underground: On His Solo LP, The National's Matt Berninger Has No Fear Of Ugly Truths
22:38∙30 September 2020
∙