From an episode of The International Pop Underground∙Presented by Anthony Carew
Interview
International Pop Underground: How Hot Yoga & Tintinnabulation Helped Kalbells Be A Band & Survive The Plague
Kalbells, an outfit founded by Kalmia Traver of Rubblebucket, has spent the past year in New York, largely in isolation. But it hasn't been as negative as that might sound.
"It's been, in a weird way, the best year of my life in New York City," Traver admits. "I feel a lot more human connection than I ever have, and so much more yearning. People will be really, really present with each other, because we're just like: 'Woah, this is medicine!'"
"Since there's no tourism," offers bandmate Angelica Bess, "there's all this space for New Yorkers, for the locals to reap the benefits of their own space in their own city. This is our tax dollars' worth. Like: 'let's frolic in this cemetery! Let's skate around an entire half of Brooklyn!' It's actually been liberating.
The second Kalbells LP, Max Heart, was written and largely recorded before the pandemic, with final touches and socially-distanced video-shoots following over the past year.
The record captures the changing of the project, from Traver's solo outlet to a collaborative quartet. "The identity shift has been happening over the course of a few years," Traver says, but the idea came to her in a very specific moment: "I remember very distinctly. I was in a hot yoga class, because I was super-into that for a year. I was in some weird upside-down position, and I thought 'I have to do this as band as a femme collective space project! That's the only way!'"
The band bonded through years of touring, but also through a process that they call "tintinnabulation," after Edgar Allan Poe's poetic term for the ringing of bells. When rehearsing or playing shows, the members "all free sing together," Traver says, "as a way to yoke ourselves with each other, with the moment, with the now."
"We stand in a circle, so we can all hear," explains Bess, "because the sound bounces around between us as we start to sync. We basically sing any note, any tone; sometimes it'll be a harmony, or it'll sync up in some way. Basically we 'om' together for 10 to 20 minutes every day, and it's this euphoric meditative state you go under, between listening and trying to match or not match, trying to find some sort of blending with vocals. It's really cool. I recommend it."
Feature image: Amanda Picotte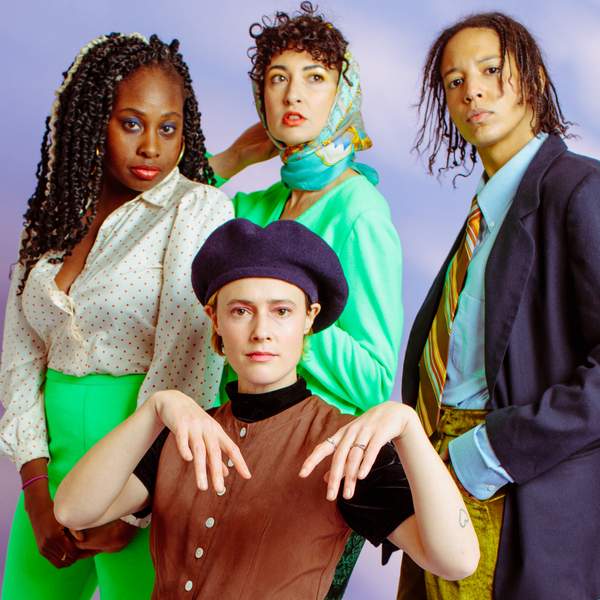 Listen to International Pop Underground: How Hot Yoga & Tintinnabulation Helped Kalbells Be A Band & Survive The Plague
18:36∙31 March 2021
∙