From an episode of The International Pop Underground∙Presented by Anthony Carew
Interview
International Pop Underground: Caleb Landry Jones's Manic Music Suits His Short Attention Span
When Caleb Landry Jones was growing up in suburban Texas, he began learning the drums. "I took some drum lessons, but I never practiced," the 31-year-old recalls. "It was a real waste of money for my folks."
But playing the drums would lead him to his first major acting role in the beloved TV series Friday Night Lights, where his character was the drummer in a fictional high-school band. As teenager, Jones became "crazy about" music. He taught himself keyboards and guitar, recorded himself all the time, and even played open mics around the greater Dallas/Fort Worth area.
"I really enjoyed this do-or-die situation that meant giving a lot of yourself," Jones says, of performing, in conversation with Anthony Carew on The International Pop Underground. "I really love this aspect of the stage. And the same with acting. It gave a space to do something that I normally wasn't allowed to do physically, whether it's scream or yell or cry or spit or whatever."
When Jones relocated to Los Angeles to pursue acting, he was so busy auditioning that he stopped writing songs. But when on his way to his big break —flying to London to film 2011's X-Men: First Class— he had a "nervous breakdown", partly due to the fact that he'd put music on the side. "I realised I hadn't written a song in six months," Jones remembers.
So, as soon as he landed in London, he bought a guitar, and from then on has kept writing songs ("as a way to medicate"), even as his acting profile has grown with roles in films like Get Out, Three Billboards Outside Ebbing, Missouri, and Nitram.
The first released results of Jones's musical output came, in 2020, with the release of the double LP The Mother Stone, a work of wild, shape-shifting, at-times-ridiculous orchestral psych-pop spiritually indebted to Syd Barrett, Van Dyke Parks, and The Olivia Tremor Control. His new album, Gadzooks Vol. 1, continues that form; each record stuffed with instruments and ideas.
"It's not going to be everyone's cup of tea, but it was never intended to be," Jones laughs. The hectic quality of the music, he thinks, probably feels more hectic to listeners than it does to him.
"I grew up with the TV, and a short attention span," Jones says. "When I was making these records, it was important for me not to get bored with what I was doing... For me, it's really natural in a way that keeps me entertained."
Feature image: Jade Mainade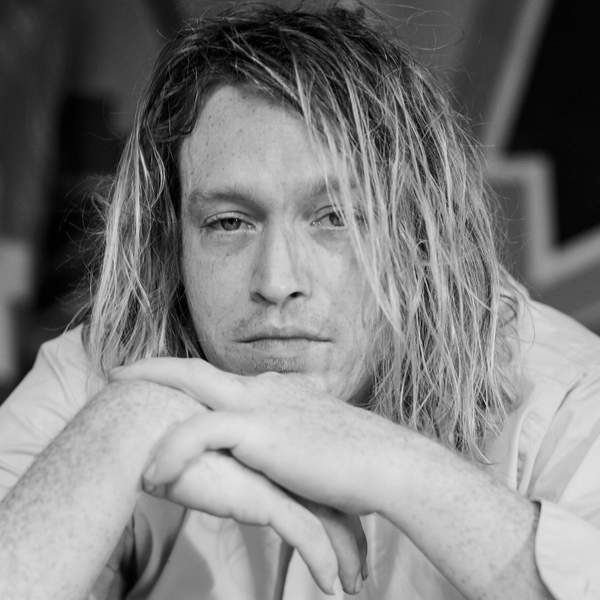 Listen to International Pop Underground: Caleb Landry Jones's Manic Music Suits His Short Attention Span
21:06∙29 September 2021
∙