From an episode of The International Pop Underground∙Presented by Anthony Carew
Interview
International Pop Underground: Body Type Battle Music-Biz Sexism with Guitars Turned Up To 11
In 2020, Sydney quartet Body Type found themselves on the precipice of breakout.
Since forming in 2016, the band — guitarists Sophie McComish and Annabel Blackman, bassist Georgia Wilkinson-Derums, drummer Cecil Coleman — had released a pair of EPs, played a bunch of gigs, and honed a killer live show. They'd signed with labels and booking agents, set up international tours, and managed to cultivate that ever-elusive sense of buzz.
In February 2020, they recorded their debut album, quit their jobs, and prepared for a year abroad. "The idea was to finish the record, put it out, move to London, do the thing," McComish recounts, in conversation with Wilkinson-Derums and Anthony Carew on The International Pop Underground.
But then the pandemic dawned, and all their best laid plans fell away.
Two years on, Body Type's debut LP is finally being turned loose. Called Everything Is Dangerous But Nothing's Surprising, it finds the quartet tackling grand themes, pushing back against the horrors of the macho music business.
"The underlying theme is our experience being four women making our way through this life," McComish offers, of the songs on the record. It definitely has to do with our experience as a band over the past five years, and certain things we've come up against," Wilkinson-Derums says.
"There's relationships, there's personal experiences... your experience as a woman making music when it's not something you've really done before," says McComish. "And figuring out how to express yourself through that medium, with guitars turned up to 11."
Listen to the full interview below.
Body Type's Everything Is Dangerous But Nothing's Surprising is out now. They are touring through June/July - more info here.
Image credit: Jack Saltmiras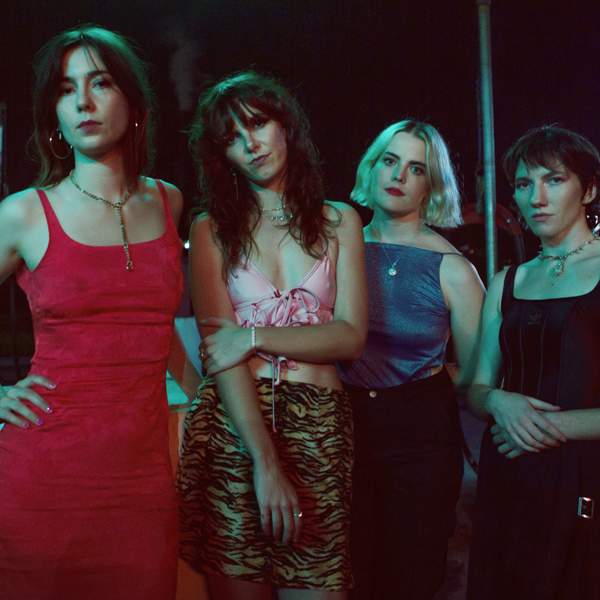 Listen to International Pop Underground: Body Type Battle Music-Biz Sexism with Guitars Turned Up To 11
21:00∙25 May 2022
∙