Presented by Dan Dare
Feature Segment
From Napster To Spotify: How Did We Get Here and Where Are We Headed
Dare Dare explores the origins of music streaming and file sharing in a broad-ranging collection of interviews for Max Headroom, beginning with Napster and the days of illegal 14400k file sharing over modems through to the complex API of The Echo Nest employed by Spotify to facilitate music discovery for its users.
Dan talks to Nathan Jolly about his article 'Forget Napster, it was iTunes that held the record industry to ransom', in which he argues that iTunes' appropriation of peer-to-peer technologies Napster used really set the stage for platforms like Spotify: 'It was the future – a utopia of endless choice unencumbered by geographic limitations, rather than the dystopian, legally-murky world of file sharing and piracy.' But it also set off a chain of events that led to a real shift in cultural production.
Swedish academic, Pelle Snickars, one of the authors of Spotify Teardown: Inside the Black Box of Streaming Music tells Dan that the very real cultural and political effects wrought by Spotify go beyond easy access to music as the people and algorithms behind them act as gate-keepers who control what gets heard and by whom.
The playlist, Pelle says, is a new cultural form that is both displacing older fixed formats and reshaping the ways in which cultural products are made.
Ennio Styles explains how he uses platforms like Spotify to trawl through the hundreds of new releases he needs to go through each week for his RRR show Stylin'. And he's noticed that these algorithms are actually generating new genres based on user preferences.
Dan's then joined by journalist Liz Pelly who has been writing extensively about the changes to the culture of music brought about by Spotify. She sees what she calls 'a watering down of music fandom' developing alongside another phenomena she calls 'music intelligence surveillance' where the recontextualising of music gets sold back to us as 'discovery'.
RRR's own Tanya Bunter also joins in, giving Dan a sneak peek into her own playlists and some of the thought processes behind their creation.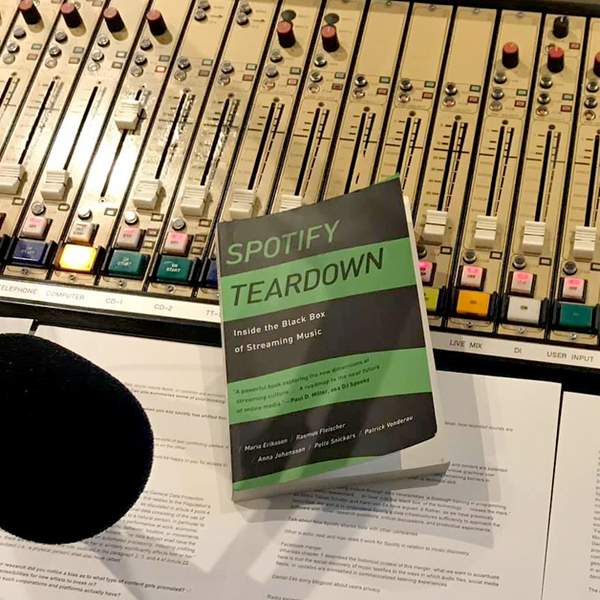 Listen to From Napster To Spotify: How Did We Get Here and Where Are We Headed
01:00:03∙11 July 2019
∙