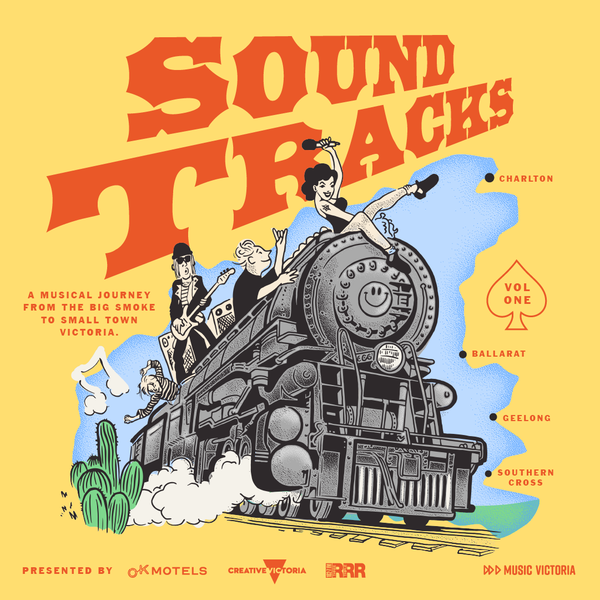 Check your timetable for Friday October 6 to Sunday October 8 because Sound Tracks is a weekend of music, arts and small town hospitality on a whole other platform. We're talking thirteen carriages, two overnighters and one engine powering you towards good times.
A return two-night journey from Southern Cross to Charlton on a fully restored steam train, Sound Tracks is all about the journey. You'll overnight in style, enjoy cocktails and canapés, cozy up in the Martini Bar, shake your caboose in the Click Clack Club and watch the sunrise as you arrive in small town paradise.
Coming along for the ride is Harvey Sutherland, Glass Beams, Maple Glider (solo), Juno Mamba, RONA, Folk Bitch Trio and Adriana
Sound Tracks is a weekend of contrasts. Of fast times from a slower age – future beats in an art deco theatre, Devonshire tea soundtracked by Folk Bitch Trio, a progressive dinner in a shire hall. New friends and old-timers cheek to cheek.
And when it's all over, we cover our tracks and steam back to the big smoke, only this time a little quieter, think a book club over triangle sandwiches in the Jazz Carriage.
So mind the gap, get on board and listen up for further announcements.
THIS EVENT HAS A VERY LIMITED CAPACITY OF 200.
Sound Tracks is part of the Victorian Government's commitment to helping restore and revitalise flood-affected communities.
This weekend of music, arts and small-town hospitality is supported by the Victorian Government through Creative Victoria and is delivered in partnership with Music Victoria.