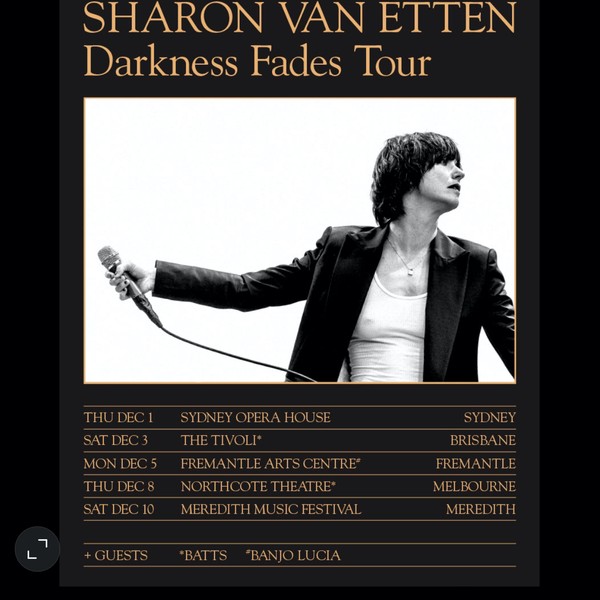 ALWAYS LIVE, Triple R and Mistletone present
Sharon Van Etten.
One of the most formidable songwriters and performers of our time, bringing her full band down under in the wake of her brilliant new album, We've Been Going About This All Wrong. Sharon Van Etten has always been a wholehearted artist, the kind of songwriter who helps people make sense of the world around them. Her newest work concerns itself with how we feel, mourn, and reclaim our agency when we think the world - or at least, our world - might be falling apart. How do we protect the things most precious to us from destructive forces beyond our control? and how do we salvage something worthwhile when it seems all is lost? In considering these questions and her own vulnerability in the face of them, Van Etten creates a stunning meditation on how life's changes can be both terrifying and transformative; articulating the beauty and power that can be rescued from the wreckage. Since her previous album Remind Me Tomorrow, Van Etten has collaborated with Courtney Barnett, Angel Olsen and Norah Jones, and released epic ten, a tribute to her debut album with covers by Lucinda Williams, Fiona Apple and Idles; celebrating Sharon's legendary status as one of the great songwriters from the very beginning. As always, we are at the mercy of Van Etten's voice: the way it loops and arcs, the startling and emotive warmth of it. What started as a certain magic in Sharon's early recordings has grown into confidence, clarity and wisdom, even as she sings with the vulnerable beauty that has become her trademark. Sharing her songs remains an optimistic and generous act which tells a larger story of hope, loss, longing and resilience; all held together by Van Etten's uncanny ability to both pierce the hearts of her listeners and make them whole again.
Sharon Van Etten, a force of nature at the height of her powers, playing at Northcote Theatre on December 8.
Joining Sharon Van Etten with be brilliant Melbourne producer/singer-songwriter BATTS who will be showcasing songs from her new record The Nightline
Venue details
Northcote Theatre

216 High St, Northcote VIC 3070