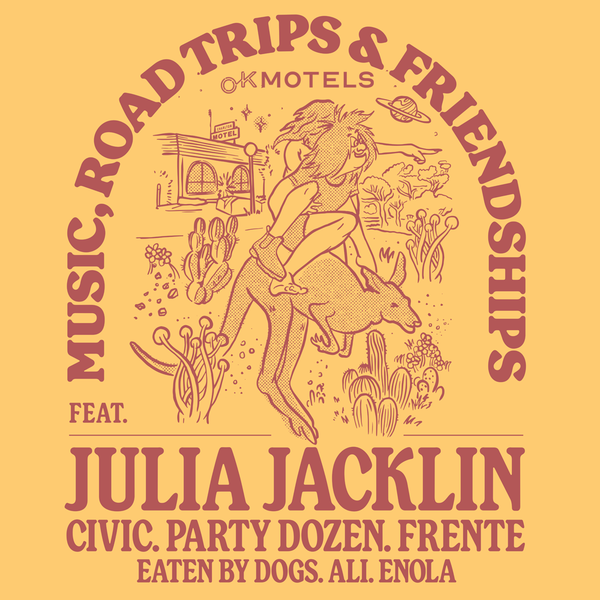 We are so ready get get back to Charlton! And we're super excited to welcome Julia Jacklin to the party. Our line up may be brand spanking new, but some things remain the same. Tell Your Friends You Love Them, the CWA, Kaylene behind the bar, Greg and Leanne at the East Charlton Hotel, Benno and Carmel at The Vale, Lloyd and Maureen at OK Camp, and the long list of local legends who make the weekend what it is.
Julia Jacklin
CIVIC
Party Dozen
Frente
Eaten By Dogs
Ali
ENOLA
There'll be the pool party again on Saturday with Tell Your Friends You Love Them spinning Love Songs and Dedications for your most loved friends. The Rex cinema will be selling their yummo homemade Choc Tops too!
Across the park we have the CWA serving Devo Tea alongside barefoot bowls, then you can head to the East for a surprise pop-up show.
After you've hit the East, you'll hit the Dinner and Show, meals cooked by the Charlton College Food Tech Kids with music by Blend ft. 'The Weed' (one the local Mayor) on keys. Then just before the night time show starts, an amazing Dja Dja Wurrung Welcome to Country Music and Dance Celebration, where we'll all join together and learn how to dance. Then it's night time fun time.
Plus, a whole new space to dance in, with the Pool Cabana Bar and Disco (located at the bottom of the Charlton Motel car park) and Room 26 Karaoke.
The town is putting on a real show for you too. Check out what they're up to!
Dja Dja Wurrung Welcome to Country, Smoking Ceremony, and Music and Dance Celebration
Farm visit at Bushy's Lodge with Joey, Sparra, and Snowy
Uniting Church Vintage Books and Stuff Sale
Senior Citz Pop Up Vintage Sale
Charlton Op Shop (extended hours)
Garage Sales
Charlton Vintage and Backyard Bar
Golden Grains Museum
Nyernila Indigenous Avoca Art Trail
Nyernila Exhibition Shire Hall
Birds of Mt Dooboobetic photography exhibition by Stuart Giles
Charlton CFA Open Day
Sunday BBQ Brekky