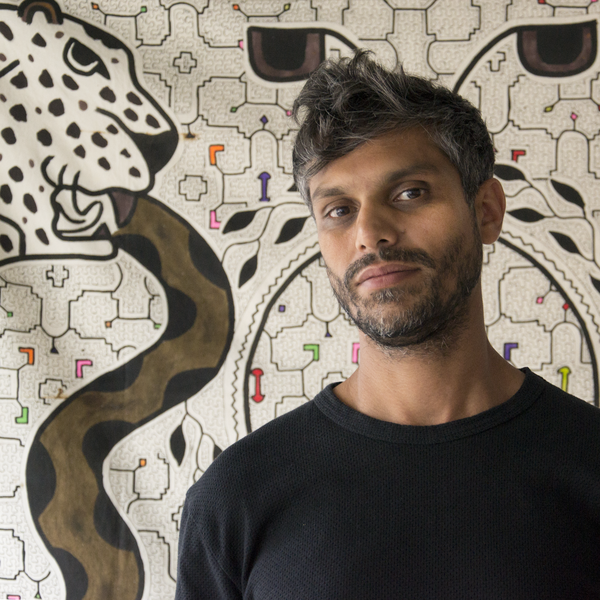 Every year the ACCA International brings to Melbourne an artist at a pivotal point in their career – often presenting their work to Australian audiences for the first time. In 2019, ACCA will present a survey of works and a new commission by acclaimed London-based artist Haroon Mirza.
Haroon Mirza's extensive and varied art practice – encompassing sculptural assemblage, immersive installation and live performance – has its origins in music; in the rhythm, syncopation and sampling techniques informed by the artist's early experience as a DJ.
For The Construction of an Act, Mirza will consider ACCA's vast architecture as a reverberation chamber in which a disparate body of works will come together to form a conceptual and sonic whole. Sculptural assemblages, indicative of the artist's early work, engage in a complex dialogue with their use of everyday materials – from showerheads and buckets, to simple LED lighting strips, outmoded electronics, found footage and musical instruments – while more recent audio and moving-image works incorporate disciplines as wide-ranging as science, technology, politics and theology to explore the complexities of human experience, as well as to question moral and political issues of our time.
Haroon Mirza: The Construction of an Act, presented in association with the Melbourne International Arts Festival, curated by ACCA's Senior Curator Annika Kristensen, 14 September - 17 November 2019.
Live performance 6.30pm, 8 October, with collaborators including Australian composer-performer James Rushford; award-winning London-based dance artist and choreographer Julie Cunningham; Australian cellist and composer Judith Hamann; and Australian-born, London-based soprano Jessica Aszodi.