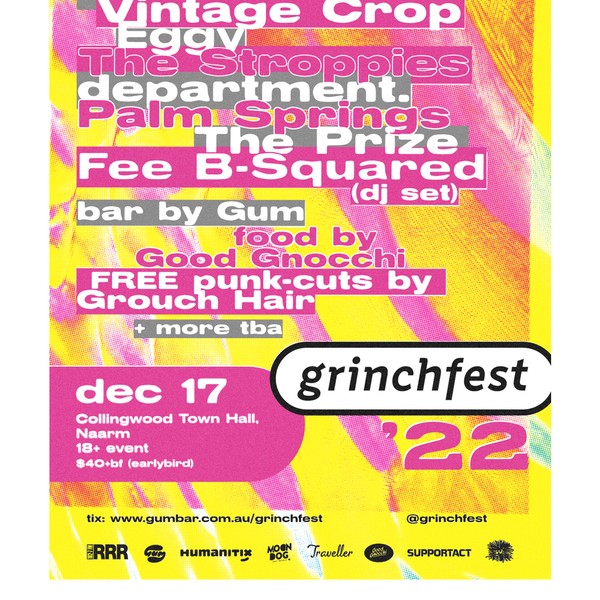 Grinchfest is here to bring together the mates, the misfits and the noise with Collingwood's inaugural Christmas party!
Featuring
CLAMM
A Swayze & The Ghosts
Vintage Crop
EGGY
The Stroppies
Department
Palm Springs
The Prize
And DJ Fee Bee Squared
Gather your friends and filthy animals to celebrate music and community. The Town Hall will be a Christmas feast for the senses, brimming with Melbourne's finest garage, alternative and low-fi bands and community radio DJs, and your favourite signature drinks flowing from Moon Dog & Gum, including Gum's new range of dance floor spill-safe Traveller cocktails. Grouch Hair will be giving out free punk cuts for anyone who wants a fresh lid for summer and Good Gnocchi will be serving up their famous lip smacking bowls of Italy's finest.
Grinchfest will be donating a share of the proceeds to Support Act, who continue to brace and respond to the needs our beloved music community.
Collingwood Town Hall and stage is fully wheelchair accessible.
Early Bird Tickets are $40 + BF
Tickets on sale now
Venue details
Collingwood Town Hall

140 Hoddle St, Abbotsford