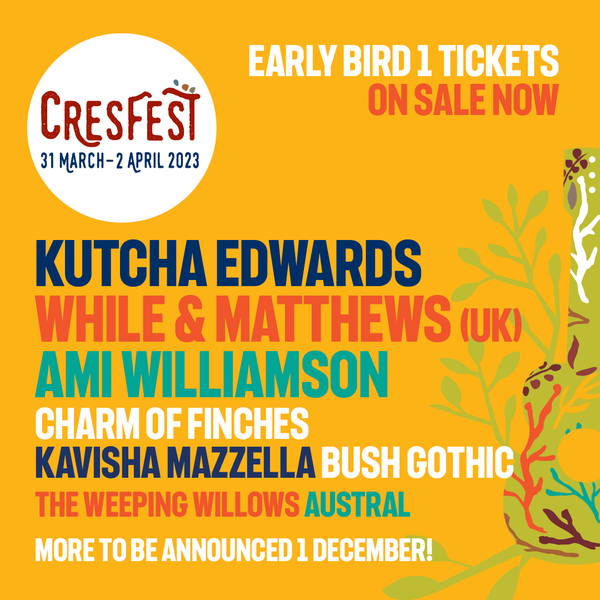 Triple R Presents, CresFest Folk and Roots Music Festival.
Back in March 2023 with an incredible line up of Australian talent, alongside celebrated international artists.
Just announced
Kutcha Edwards
While + Matthews (UK)
Bush Gothic
Austral
Ami Williamson
Charm Of Finches
Kavisha Mazzella
The Weeping Willows
CresFest is a multi-generational celebration of music,art,and culture across three days where the whole town comes alive with gold rush-era buildings, local pubs, cafes, and outdoor venues hosting intimate performances by celebrated contemporary folk and roots artists.
Founded to celebrate the town of Creswick, its people, and the joy of music and dance, the festival showcases artistic talent and the natural beauty of the town. With core values of community,creativity, and sustainability CresFest will once more be a sanctuary of music, art and community programmed with our different audiences in mind.
Situated just 1.5 hours' drive from Melbourne, between Daylesford and Ballarat, Creswick is accessible by road or public transport with a V/Line connection on the Maryborough route.CresFest presents a music line-up that istruly diverse and offers lots of fun with blackboard concerts, sessions, family bush dance, busking festival, youth stage, music and dance workshops for all ages, locals talent quest, and more!CresFest is a festival for everyone with different stages, spaces and campgrounds to welcometheyoung, old and everyone in between.
More acts announced 1st December!