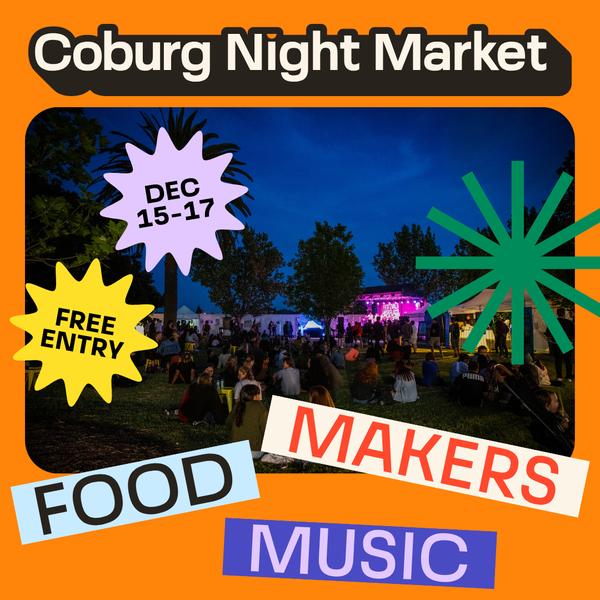 Triple R and Merri-bek City Council present the return of the much loved Coburg Night Market this December. Running across three nights and two days—from Friday 15 December to Sunday 17 December—the historic Bridges Reserve on Bell st will come alive for a weekend of family-friendly fun.
With over 68 stallholders, a brand new layout and a bumper music program, Coburg Night Market is a fun-filled and inclusive event the whole community can enjoy—you can even bring your pooch along to join in the fun!
Known as a celeration of diverse flavors, unique artisan products, and top notch entertainment—Coburg Night Market has long been a community favourite. Curated by new event programmer, Juliette Lalli, market goers can expect an eclectic mix of local artists, musicians and DJs across the weekend—ensuring there's truly something for everyone to enjoy.
Featuring performances from: Triple R's DJ Jas Moore, Pirritu, Hooper Crescent, Sunfruits, Pat Telfer, Quality Used Cars, Muma Ganoush, OUZO!, It Thing, The Prize, Fonzie, Deuce, Sunny Morris, Chitra, and Danika.
Find out more at Coburg Night Markers social media pages here and here.
Venue details
Bridges Reserve

Bridges Reserve, Coburg